Adventure Holidays In Vietnam
Go off the beaten track with us on our holidays to Vietnam. All of our holidays to Vietnam include return flights, accommodation, guided transfers and an expert, local guide to show you the way.
We plan everything for you
Travel with like-minded people
It's all included flights, tours & much more
Local expert guides to assist & inspire
Select A Guided Adventure Holiday To Vietnam
Url
Top Places To Visit & Tourist Attractions In Vietnam
Ho Chi Minh City
Hoi An
Hanoi
Cu Chi Tunnels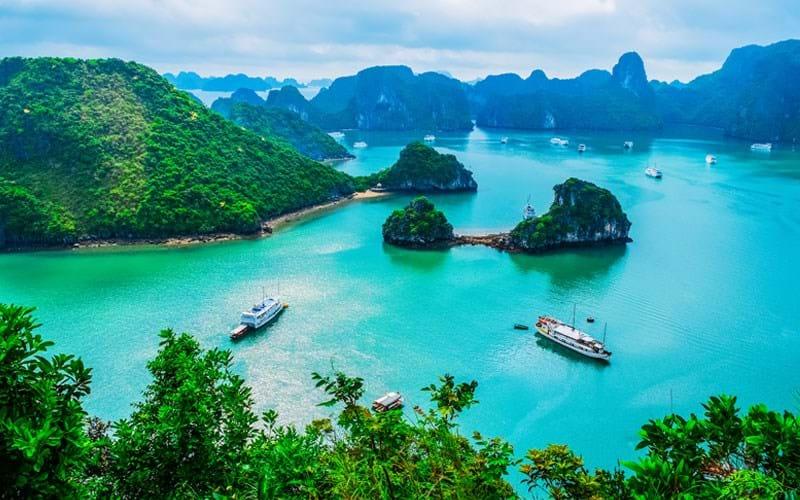 Ha Long Bay
Originally named Saigon, Ho Chi Minh city was renamed after it was taken back from the US Army during the Vietnam War to honour the North Vietnamese leader Ho Chi Minh. Today, it is the most populous city in Vietnam and a must-see for those interested in the country's history. On our holidays including Ho Chi Minh city, we'll explore authentic local markets and iconic sites like the War Remnants Museum, the Reunification Palace, the former South Vietnam Presidential Palace, the Notre Dame Cathedral and the Old Post Office.
Located on Vietnam's central coast, the city of Hoi An is a cultural melting pot, with influences from the Chinese, Japanese and French. The city's ancient old town is a well-preserved example of a trading port dating from the 15th to 19th centuries and is easily explored on foot. On our holidays to Vietnam including Hoi An, we'll see the city's 400-year old Japanese Covered Bridge, the Phuc Kien Assembly Halls and the its colourful local market with an expert, local guide to give us the history behind each highlight.
The bustling capital of Vietnam, Hanoi, is one of the most ancient capital cities in the world and has been inhabited since about 3000 B.C. Today, the city is a unique mix of colonial-era buildings, ancient temples and modern structures. On our holidays to Vietnam including Hanoi, we'll enjoy a full day city tour to take in highlights like the Ho Chi Minh Complex, which includes the Mausoleum, Uncle Ho's former stilt-house residence, the Presidential Palace, the Ho Chi Minh Museum and The Temple of Literature.
Used by the Viet Cong during the Vietnam War, the Cu Chi Tunnels served as hiding places, communication and supply routes, field hospitals, and even living quarters. Spanning more than 250km and descending 3 floors over 12 metres in depth, this vast network of tunnels is an incredible engineering marvel. Today, the tunnels have been restored to allow visitors to experience what underground life was like during this conflict. On our holidays including the Cu Chi Tunnels, we'll hear the history of this important site from an expert guide as we tour the tunnels.
Ha Long Bay is arguably the most famous of Vietnam's attractions. This stunning UNESCO World Heritage Site is home to thousands of towering limestone islands topped with dense rainforests. The bay's blue-green waters are calm and clear during the spring and early summer and many of the surrounding islands have small alcoves with sandy beaches where it is possible to swim. On our holidays to Vietnam including Ha Long Bay, we'll have the opportunity to explore this incredible natural wonder by boat.
Experience Vietnam On A Guided Adventure Holiday
With its spectacular coastline, ancient pagodas, lively cities, delicious food and exotic culture, it's no wonder Vietnam is top of many holiday wish lists. On our holidays to this incredible country, we'll have the opportunity to discover it all as we visit must-see highlights and enjoy authentic experiences with the help of an expert, local guide. When you travel with us to Vietnam, we'll go beyond the standard holiday and immerse ourselves in the culture of this beautiful country. We'll take a scenic bike ride through rural countryside in Tam Coc, kayak and swim in Ha Long Bay, experience the floating markets of Cai Rang, and climb the famous Marble Mountains. Our holidays include a variety of excursions, so whether you're interested in Vietnam's history, local customs or breath-taking scenery, there's something for everyone.  From the emerald waters of Ha Long Bay to the buzzing cities of Hanoi and Ho Chi Minh, our trips to Vietnam are sure to create memories that last a lifetime.
Vietnamese Holiday FAQs
What is included in my holiday?
Will I be met at the airport?
What is the deposit and when is full payment due?
What if there is an emergency?
Vietnam Adventure Holiday - Reviews, Travel Tips & Advice
TD active Holidays
05 April 2018
Vietnam combines history, culture, stunning scenery & tasty cuisine. There are so many reasons to visit, but here are a few of our...
Looking for an adventure? Keen to see the iconic highlights but also get off the beaten track? Keep reading! We may have what you ...